November 25, 2019 | By: Adrian McMorris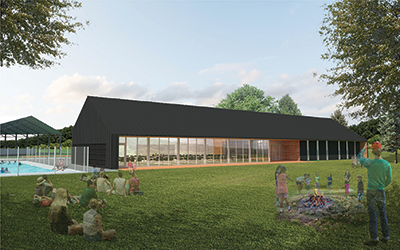 As part of the True North Youth Foundation's ongoing commitment to provide a Superior Patron Experience at Camp Manitou we will be constructing a new lodge to better serve our campers, school groups and rental groups.
Construction is underway in the area that extends from the current parking lot on the north side of the lodge to the fire pit in the field on the south side. While we are hopeful that the project will be completed on schedule in late spring 2020, please be advised that construction could be delayed and therefore impact our June 2020 bookings.
Camp Manitou will remain open for fall, winter and spring rentals and programming with some significant adjustments. As there will not be a kitchen on site all meals will need to be catered and will be served in the gym or in the new Welcome Centre, depending on the size of your group. For groups that are staying overnight all sleeping accommodations will be in 10 cabins which consist of a total of 120 beds. Evening space for lounging and relaxing will include the gym, cabins and Welcome Centre. Washrooms will be available in the gym, Welcome Centre and "Skate Shack" (adjacent to the rink), and showers will be available in the Welcome Centre and "Skate Shack".
We apologize for any inconvenience that this construction may cause, but we look forward to enhancing the camp experience for all visitors when this major project is completed next summer!
Construction FAQ
When will the new lodge be completed?
The lodge will be completed in the spring of 2020, but with the uncertainty of construction we will not have a clear idea of the date of substantial completion until after the snow disappears.
Will all spring/summer activities be available for our campers in 2020?
Yes, all but field games…at this point we are not sure how the construction will impact our field and therefore we may not be able to run games in that area next spring/summer.
While construction of the lodge continues throughout the winter months will that affect any of the winter activities that our group can participate in?
All winter activities will be available while construction is ongoing. Cross-country skis and snowshoes will be located in a different building but will still be available for use for all winter groups.
Is there a kitchen on site for our group to use while the new lodge is being built?
Unfortunately, we do not have a kitchen on site during construction and will not have one available for use until the new lodge is completed. Catering is available and can be arranged with Camp Manitou staff.
Prior to completion of the new lodge, where will our group be eating their meals?
Most groups will eat their meals in our multi-purpose (gym) space. Smaller groups (30 or less) may also be able to use our Welcome Centre for meals.
Is there still adequate parking available on site for our group?
Our main parking lot between the rink and the lodge has been significantly reduced in size. However, parking is available near the toboggan slide and on the east side of the rink. Additional parking has also been added near the Welcome Centre for groups that are using that facility.
Will Camp Manitou be undertaking any further development after the completion of the lodge?
Yes! We received a very generous donation of an additional 11 acres on the north side of our property and we will be adding many new adventure activities, including canoeing and kayaking on the new lake, multiple ziplines and extensive bike trails. This project is expected to get underway in the spring of 2020 and be completed in time for summer camp in 2021. Learn more about the expansion project at TNYF.ca/ManitouExpansion
Will this major construction project on the new 11 acres negatively affect the camp experience for our group in any way?
Fortunately, this project is taking place on land that we do not currently use for any of our camp activities and therefore we do not anticipate that the construction of the new adventure activities will have any negative impact on the experience for any of our campers or rental groups.
Will the new adventure activities be ready for use by our school group in May and June of 2021? If so, when can we book a date to have our students experience those activities?
The timeline for this project has not been finalized but it will certainly be our goal to have all the activities ready for the beginning of May in 2021. Please check our website on a regular basis as details will be updated consistently once construction begins. School groups can begin to make bookings in early October of 2020 for visits to Camp Manitou in May and June of 2021.