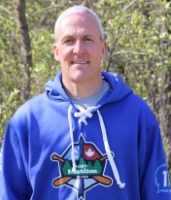 Rick Bochinski, Camp Director
With 20 years of sports administration experience, Rick Bochinski has an extensive background in youth programming.  During his years at Sport Manitoba and the Bell MTS Iceplex, Rick has developed and organized countless programs and has been involved in the execution of numerous tournaments and events in the field of sports and recreation.  Bochinski brings a passion for children and youth into his role as the Director of Camp Manitou and is responsible for overseeing staff and program development.
Bochinski graduated from the University of Manitoba with a Bachelor of Commerce and a Bachelor of Recreation Studies.  In addition, Rick has spent many years at local hockey rinks as both a player and a minor hockey coach, and brings this experience into his on-ice and off-ice roles with the Winnipeg Jets Hockey Academy.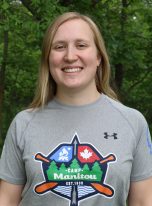 Mackenzie Scharf, Manager, Patron Services
Mackenzie graduated from the University of Manitoba with a Bachelor in Recreation Management and Community Development. She started on with the True North Youth Foundation in September 2013 as the Foundation Intern in her final year of study. Moving her way up through various roles, Mackenzie was appointed as the Winnipeg Jets True North Coordinator in 2014 and then to the role of Manager in 2019.
Mackenzie is mostly involved with Camp Manitou, but also assists with Hockey Academy and 50-50. Her main responsibility is the administration of bookings and marketing of camp.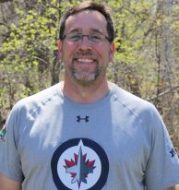 Jim Proulx, Camp Facilities & Grounds Manager
Jim brings years of maintenance, construction and safety experience gained through previous employment, as well as through his personal hobbies and lifestyle. He is passionate about working hard, getting his hands dirty, and getting the job done. Jim has spent 20 years coaching children in minor hockey, soccer, and baseball and he continues to enjoy sports himself in his spare time.
Jim is responsible for keeping Camp Manitou's 28 acres safe and well-kept all year round. He will work with the Camp Manitou counsellors to ensure campers have a safe, fun and memorable time at camp!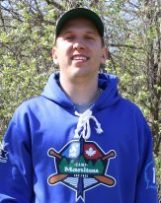 Thomas Nowicki, Coordinator
Tom graduated from the University of Manitoba with a Bachelor in Recreation Management and Community Development. He began with the True North Youth Foundation as an Intern in 2015, during his final year of study. Upon graduation, he joined the Foundation team full-time as the Scheduling Manager. During the low season at Camp Manitou, Tom keeps busy working with True North and the Foundation in a variety of ways, helping with Hockey Academy, 50-50, and donations.
Tom is a sport fanatic of all types. He brings his high energy, love for activity, and fun to the hundreds of kids he interacts with each year!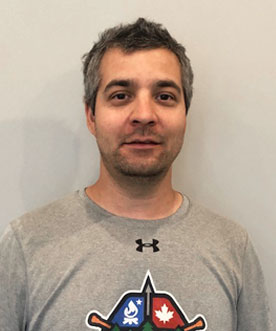 Jesse St. Cyr, Facilities & Grounds Assistant
Jesse has been working at Camp Manitou in a part time capacity since October 2017. He came to the True North Youth Foundation after many years of building and grounds caretaking for the Assiniboia West Recreation Association. Jesse has a keen attention for detail and makes safety a priority with every project. He takes a great deal of pride in successfully completing challenging tasks and is willing to take the time and effort to get the job done correctly the first time. Jesse is skilled mechanically and helps to complete equipment repairs and regular maintenance on the vast variety of machinery at camp.