August 9, 2022 | By: Jason Friesen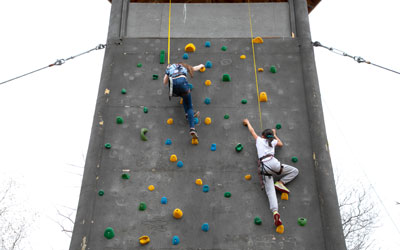 Activities like canoeing and fishing may seem inaccessible to many Manitoba youth, but each summer (and year-round) Camp Manitou is bringing sport, adventure and traditional camping activities to youth who would otherwise not have the chance to take on these new challenges.
The camp may feel like a place far away from the city but being five minutes outside of Winnipeg, activities like ziplining, kayaking, the ropes course, wall climbing and more are not only within reach to Manitoba youth, but are staples in the schedule at camp.
Making the inaccessible accessible isn't just achieved through camp's facilities, but through funding that brings the camp experience to as many kids as possible, including summer campers, participants of the Winnipeg Jets Hockey Academy (WJHA) and school groups.
"We would not have been able to experience camp as a school without Camp Manitou's support," said Nicole Mager, a teacher at Lavallee School whose students enjoyed a jam-packed day of learning and fun to cap off the 2022 academic year. "If students had to individually pay out of pocket for this experience, we simply would not have been able to go."
Thanks to the financial help from Camp Manitou, students were left with plenty of fond memories – memories they're still talking about.
"I loved the variety of activities. We got to try so many new things," said one student.
"I loved the freedom of learning without walls," said another.
"I loved the rock climbing," added a third student. "It was a new opportunity and fun to do. Everyone was cheering me on to get to the top and I felt like I achieved something when I did get to the top."
Though fun is certainly a staple of the camp experience, it's clear from the students' answers that there's so much more contributing to their experiences. Venturing into new waters in a canoe or reaching new heights on the climbing wall challenge students to grow, push them outside their comfort zone, and teach them plenty of lessons along the way.
Seeing one student bravely try the zipline for the first time was the highlight of the camp experience for Mager.
"Students, staff and Camp Manitou leaders were encouraging and supportive," she said of watching the student conquer the zipline. "When that student came back after successfully gliding down the line, she was beaming. She was grinning from ear to ear as the whole team clapped and cheered for her. She later told me she didn't think she could do it and surprised herself, and said she would do it again."
Those experiences are at the heart of why Camp Manitou prioritizes making the camp accessible to all youth.
"Well-rounded learning experiences are so valuable for kids," noted Audrey Hicks, Camp Manitou's Director. "There are some things that just can't be learned in a classroom, and we're proud to be a place that gives youth the opportunity to learn some of the more intangible skills like risk-taking and self-confidence in an outdoor environment where there is so much to explore. To be able to give that opportunity to a school where staff and students could share the experience together and continue to develop as a team was extremely rewarding to witness."
It couldn't have come at a better time for them either. After two years of disrupted learning that continued to block their ability to bond as a community, having a fun-filled and unifying experience at Camp Manitou was exactly what they all needed for both their physical and mental health.
"Having our students and staff back at school has been wonderful and so needed, but the impact of the disruptions from the pandemic are real," said Mager. "It has been difficult on everyone, and having an opportunity to be outdoors and have fun as a school community is perfect way to promote positive mental health."