January 6, 2016 | By: CK Nakhwal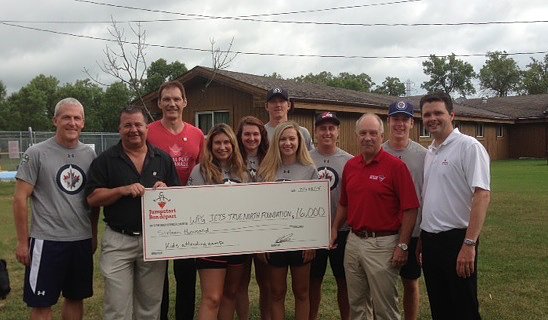 The True North Youth Foundation would like to thank Canadian Tire Jumpstart for its generous support of the summer program at Camp Manitou. As part of an ongoing partnership, Canadian Tire Jumpstart has provided $16,000 to cover the transportation costs to send 250 Winnipeg Jets Hockey Academy students in Winnipeg to Camp Manitou for a week of summer camp!
Pictured at the cheque presentation are representatives from True North Youth Foundation, Camp Manitou, Canadian Tire and Canadian Tire Jumpstart Charities: front row (L to R) Rick Bochinski, Darren Rezansoff, Montana Funk, Mykala Rodgers, Cheyenne Davis, Jaw Crowley, Glenn McLean and, back row (L to R), Russell Unilowsky, Patrick Dawson, Mitch Lockhart and Jordan Bochinski.